REDUCE COSTS & IMPROVE 

WORKFLOWS WITH KYOCERA'S TOTAL DOCUMENT SOLUTIONS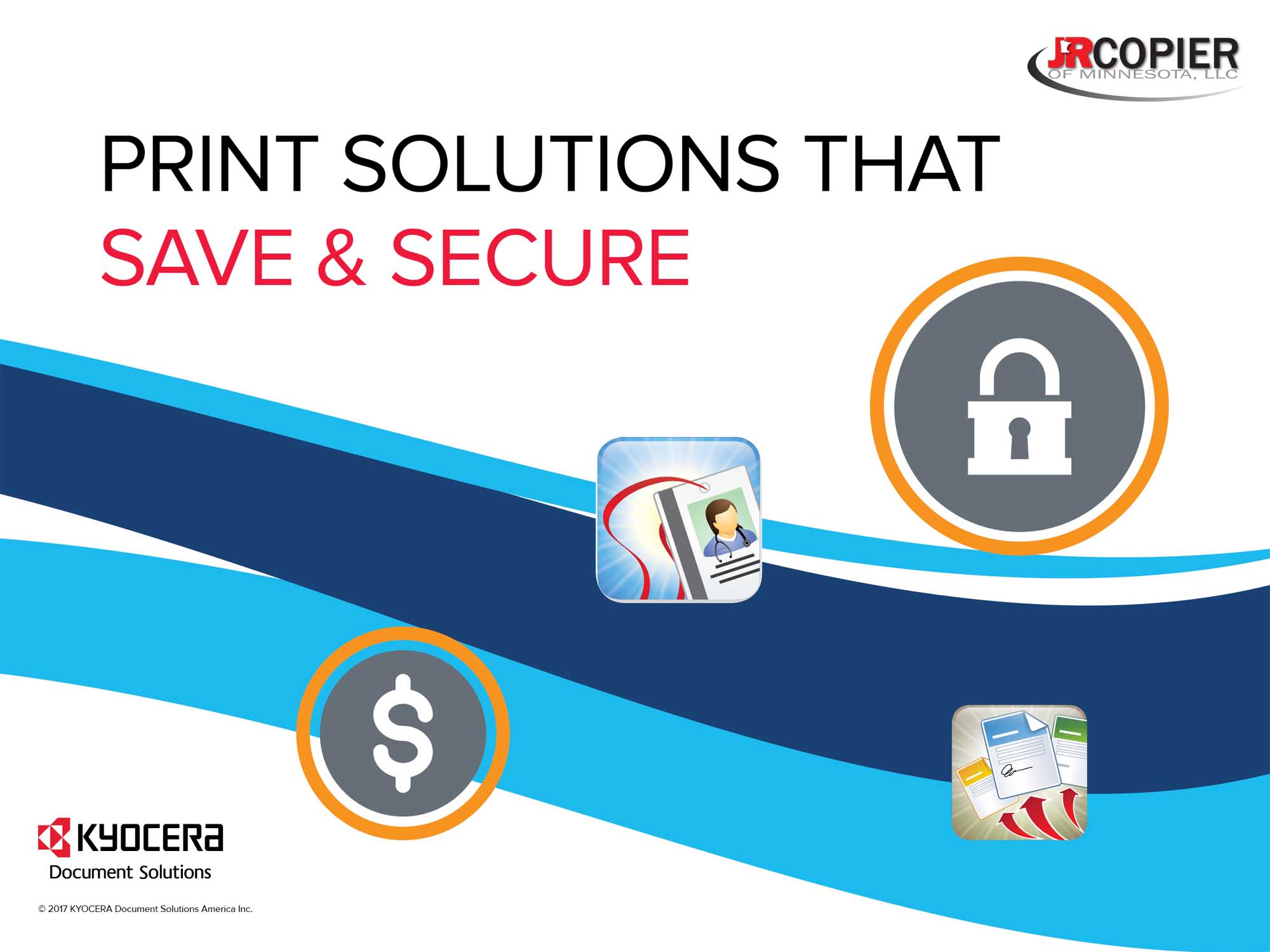 As a Total Document Solution Provider, KYOCERA & JR COPIER OF MINNESOTA go beyond just document imaging devices. We can help identify the challenges you experience with documents, streamlining your entire document workflow to reduce costs and increase workplace productivity and efficiency.
THE POWER OF KYOCERA PRINTERS, MFPS & BUSINESS APPLICATIONS
Kyocera offers an award-winning comprehensive range of device technology, from desktop printers and multifunctional printers, to robust color and black & white multifunctional products.
We also offer Software Solutions in the form of Kyocera-developed HyPAS business applications, as well as connectors and business associations, with an ever-growing list of 3rd party software providers; all of which harness the power of Kyocera technology to build customizable solutions that turn otherwise complex document workflows into simple processes.
MORE THAN JUST HARDWARE, WE PROVIDE YOU WITH CUSTOM BUSINESS SOLUTIONS
In addition, Kyocera offers a portfolio of services that range from pre-sales and post-sales capability, to comprehensive Kyocera Managed Document Services (MDS), providing customers with more than just hardware, but value-add solutions that will help to enhance your organization.
MDS allows you to optimize your entire document output. It is Kyocera's holistic approach that focuses on the entire document workflow (which touches all of the hardware and software a customer may currently have or need in their environment).
By providing a comprehensive bundle of services to streamline your output management, Kyocera can provide ongoing management, optimization, lower document costs, reduce IT department workload and minimize environmental impact.
Taking Kyocera MDS capabilities to the next level:
When we layer in Kyocera's approach to resolving your challenges, we can help to uncover a customer's critical business issues with documents; understand the reasons and impacts to your company; and design the right solution to resolve that "business challenge," based on our overall product and service offerings.

---
 Kyocera Copiers