Office Equipment Leases - Copiers & Laser Printers
If you're reading this, you've probably been tasked with figuring out whether your company should purchase copiers and printers outright or lease them from a business equipment provider. Most research available online will hem and haw about how each option can be good for certain types of businesses, and then conveniently link to their own copier sales or copier leasing site.
Types of Office Equipment leases

There are two primary types of business equipment leases: operating leases and capital leases.
Operating leases: Most businesses choose operating leases, also called fair market value leases, because they offer lower monthly payments than capital leases. When a business gets an operating lease for a copier or printer, they're essentially renting the piece of equipment, so the asset never gets added to the lessee's balance sheet. When the lease ends, the lessee has the option to buy the copier, but the buyout cost will be calculated by the lessor based on agreement terms, depreciation, wear and tear, new technology, and market demand. In general, operating leases make the most sense for businesses that don't want the hassle of owning a copier or printer, and want to continually lease recent models instead.
Capital leases: Sometimes called $1 out purchase leases, capital leases are the less common choice for most businesses. When a business gets a capital lease for a piece of equipment, it's more like a loan on the money than a rental on the equipment, so the interest and principal being paid is going toward the cost of the copier, and the copier goes on the lessee's balance sheet. The monthly rate for a capital lease is higher, because 100 percent of the cost of the equipment is being financed. However, a capital lease does offer an advantage for lessees who plan on eventually buying, because the buyout cost is stipulated in the contract at the point of signing. In general, capital leases make the most sense for businesses that want to purchase and own a printer or copier, but don't want to make the entire purchase up front. 
Benefits of Leasing - Why Lease Your Next Copy Machine
Leasing the copier improves your cash flow. The main advantage of leasing is that it frees up cash. Equipment leases rarely require down payments, though you may have to set aside some cash for a refundable security deposit. By contrast, loans to finance the purchase of equipment typically require down payments of up to 25 percent or more.
Leases are easier to finance than purchases. Before extending a capital equipment loan, banks will usually want to see two to three years of financial records — which most new companies do not have. Leasing companies, on the other hand, usually require only six months to a year of credit history before approving a furniture or office equipment lease.
Leasing makes it easier to keep pace with office equipment technology. Leasing is especially attractive if your business relies upon cutting-edge technology such as the latest computers, communications devices, or other equipment. A series of short-term leases will cost you less than buying new equipment every year or two. Some office equipment leases even have yearly computer upgrades built into them — eliminating that difficult decision of whether you can afford to upgrade or not.
Leasing allows you to afford more. While you might not be able to afford to purchase those pricey ergonomic chairs your employees are asking for, you may be able to lease them. Better furniture and equipment can create a more professional image and boost morale and productivity.
Leasing has balance sheet benefits. You may be able to exclude some leased assets and related obligations from your balance sheet. Such moves might improve financial indicators such as your firm's debt-to-equity ratio or earnings-to-fixed-assets ratio. Bear in mind, however, that accounting rules do require your balance sheet to report assets leased under certain types of agreements.
Be aware that many copiers or office equipment dealers write their own leases and one of the clauses to look out for is the one that if you do not cancel in writing your lease agreement 60 to 90 days prior to termination of your lease, it will automatically renew for an additional year.

Yes, Want More Information About Leasing!

Additionally, if you think you might want to purchase the equipment after the term of the lease has ended, look for a lessor that offers an option to buy.
https://www.youtube.com/watch?v=KKiBB3XPAQk
Proudly Servicing The Entire Minneapolis - St. Paul Metro Area 
Minneapolis - St. Paul, Minnesota Business Profile
Minnesota's rank is based on a strong current economic climate, labor supply and quality of life. The Minneapolis-St. Paul metro area is home to 65% of the state's population. It also serves as the state's economic hub, with companies such as Target, U.S. Bancorp, General Mills, 3M and Medtronic headquartered there. Minnesota has the highest percentage of adults with a high school degree at 93% (it ranks ninth for college attainment). With its good schools, healthy populous and abundance of recreation and leisure options, the state ranks third overall on Forbes' quality of life measurement. (Forbes)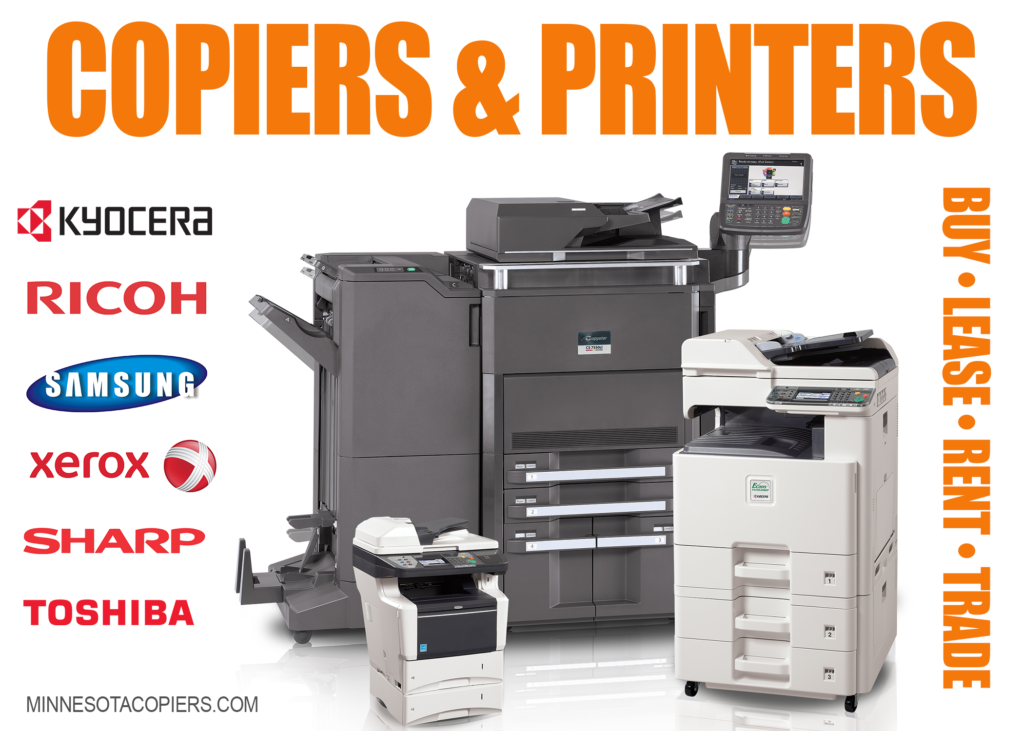 Connect with a team member • (763) 509-0054